Warning: It's not all about Down syndrome around here. In fact, it's hardly about Down syndrome at all. (If anyone had told me, eight years ago, that I would someday write that as a caption for a photograph of two of my four children (Wait, WHAT?) I would not have ever believed them). This just goes to show you: You truly never know what will happen in your life.
I know you are all waiting in rapt suspense to see whether or not I will participate in this year's "31 for 21" (blogging every day for the month of October in honor Down syndrome Awareness).
I'm torn. Part of me likes it as an exercise in writing (and sticking to something for an entire month is kind of fun). Selfishly, it's nice for me to have one good chunk of writing to look back on, since I don't post here nearly as much as I like to. But then there is the little matter of what to write? I know everyone says "you don't have to write about Down syndrome" but I do feel added pressure to somehow tie in the old extra chromosome, at least in some posts. I've written so much about Down syndrome that there is some level of performance anxiety involved now. Mostly, I don't want to repeat myself and bore you all to tears (any more than I already do-ha!).
And here's a funny thing: I started this blog in 2008 when my oldest son Leo was four, thinking I'd write mostly about Down syndrome, and that's indeed mostly what I wrote about. I started it as a way to process this Big Thing that had happened in my life and also with the hope that I would find a larger Down syndrome community beyond the one I'd found locally (which was fine, wonderful even, but for some things,
more is more
). I found that wonderful community, in spades.
I feel like I have beaten the Down syndrome horse. I wrote about our struggles with Leo's sleep and his behavior, about
the hand wringing surrounding his school placement
, about his
eyes
and
ears
and his adenoids and his teeth. I wrote about the grief surrounding his diagnosis and the eventual
acceptance
.
And then Leo graduated from preschool. Then kindergarten. Suddenly the language delayed little boy would Not Stop Talking.
And then his baby sister grew into a little girl.
And then two more little people came along, and then we were
six
. Then twin babies became toddlers. Life got even busier and more ridiculous (mostly in a good way).
And Leo still (obviously) has Down syndrome, but I think with every year that goes by, the Down syndrome has receded into something that just
is
. It's no longer at the forefront. All the questions are gradually being answered. Will he walk and talk? Of course. Will he read and write? Oh yes. Will he stop running off in public places? Yes, thank goodness. Will his speech improve? Gradually, yes. Of course, knock on wood, we've been very fortunate have none of the major health problems that can be associated with Down syndrome. We've had the privilege of relative normalcy. At least, it's what's normal for
us
.
All of this to say, I think that mundane, not all Down syndrome, all the time can also be a contribution in this whole "31 for 21." Because to this day I remember the feeling of waking up in the mornings that followed Leo's birth, rolling over and looking at the light coming through the window of our little garden apartment in Park Slope Brooklyn, thinking:
"My baby has Down syndrome. My baby has Down syndrome. And that's all I will ever think about again."
Because of course that's the farthest thing from the truth.
But in the early days, when Down syndrome loomed as
The Worst Thing That Ever Happened To Me?
I would have given anything to stumble onto a blog that talked about "American Horror Story" (I've decided I'm absolutely too scared to watch season two), the best Thai food in Portland, Oregon, the paper dolls I scored on eBay and Oh My Goodness You Won't Believe The Cute Thing The Babies Did Today. And did I mention my oldest son has Down syndrome? And that it's honestly (most days) no big deal?
If that's the kind of blog you're looking for? Then you've come to the right place.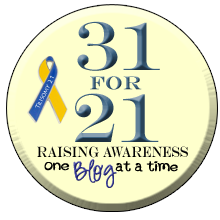 Grab This Button